Speech and Language Therapy
Speech and language therapists (SLTs) work with people who have speech, language, voice or swallowing issues.
Our department provides assessment and treatment to infants, children and adults with a wide range of communication and/or swallowing difficulties. We work with patients, their families and members of the multidisciplinary team. We work across Cork University Hospital, Cork University Maternity Hospital, Mallow General Hospital and St. Finbarr's Hospital. Our service is primarily for inpatients. However, we also provide specialist outpatient services. Please see Services Provided (hyperlink) for further information.
Referral Information
All inpatients must be under the care of a Consultant.
All outpatients must be under the care of a Consultant and referred to a specialist outpatient service (hyperlink -Services provided).
If you are concerned about your communication or swallowing and are not known to a CUH Consultant or specialist service, please contact your GP who can refer you to the appropriate SLT service in your local area.
If you have been offered a SLT appointment at CUH, please see your appointment letter for details.  If you cannot attend, please contact 021-4922880 as soon as possible so we may;
Facilitate the offering of your cancelled appointment to another patient
Reschedule your appointment
Remove you from the waitlist (if you feel you no longer require the service)
If you have another appointment in CUH within a close timeframe to your Speech and Language Therapy appointment, please contact us. We will try our best to co-ordinate appointments for you. Please understand that this may not always be possible.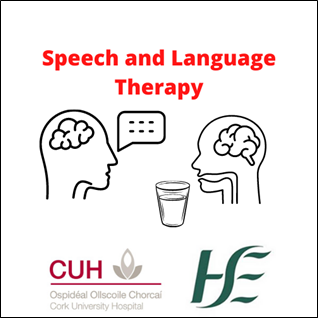 Contact Details:
Location: Speech and Language Therapy Department, Shandon Suite, 1st Floor, Cork University Hospital, Wilton, Cork.
Phone: 021-4922880
Department opening hours: 08:00 to 16:30
Useful information
Our purpose
Our purpose is to make a difference in the lives of those we meet
Our vision
We will be a centre of excellence for SLT in the South/ South West Region.